In the late 40's, many railroads realized that to maintain an economically viable passenger service to smaller communities, branch lines and suburban commuter lines where the amount of traffic couldn't justify the use of a locomotive hauled train, a flexible alternative was needed.

A Philadelphia based company with 15 years experience in building stainless steel light weight passenger cars designed, built and introduced the first RDC (Rail Diesel Car) in 1949. Over the next decade, the Budd Company produced hundreds of these bi-directional self-powered railcars that became a common sight on many railroads across the US and Canada. A number of the Canadian units were built under licence by CC&F (Canadian Car & Foundry, Montreal, Quebec).

There were five major types of RDC's built by Budd plus the many variations that resulted from individual railroad's modifications to meet their particular service needs.
RDC-1 -- all passenger compartment, 88 coach seats, 85' long, 2 diesel engines
RDC-2 -- passenger compartment, 71 coach seats, RPO compartment, 85' long, 2 diesel engines
RDC-3 -- passenger compartment, 44 coach seats, RPO and Baggage compartment, 85' long, 2 diesel engines
RDC-4 -- RPO and baggage compartment, 64'2" long two diesel engines
RDC-5 (9) -- all passenger compartment, 82 coach seats, 85' long, 1 diesel engine, no cab controls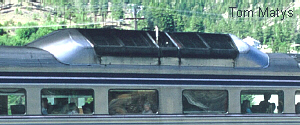 Some interesting features that can be seen on the RDC's exterior are the roof mounted radiators concealed in the characteristic RDC blister that is located off-center on the roof. Two exhaust stacks are also located in the center of the blister.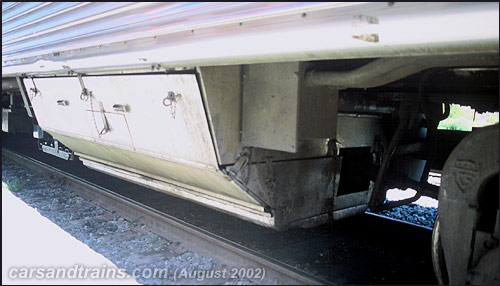 Two stainless steel weather proof engine covers (one at each end on opposite sides) mounted bellow the floor are protecting the two GM/ Detroit Diesel 6-110 series engines. Each engine powers the inside axle on the truck to which it's connected mechanically via a torque converter and a drive shaft.

Because the RDC was designed to be bi-directional, (capable of running in either direction without the need to turn around at a terminal) there's a control cab (except for RDC-9) at each end equipped with full instrumentation, controls and a folding operator's seat. The folding seat is necessary due to the fact that passengers have to pass through the cab in order to board and disembark the train.

The main advantage of the RDC is that it can be used as a single unit or in multiples as required to meet the day to day demand. As most of these units have been around for half a century and their age is starting to be more apparent, maintenance is becoming a challenging and costly proposition. As these icons representing a bygone era of short distance rail travel are slowly disappearing off the rural landscape, their legacy lives on in the hands of dedicated volunteers and organizations across the continent who invest their time and resources to preserve them for the next generations of rail fans.